Great Lakes Chapter Members Attend National Annual Conference
By Maria I. Contreras
We want to express our gratitude to the Annual Conference Planning Committee, the speakers, the exhibitors, the product theatres, and the GAPNA National Office for another four days of high-level education, sharing of scholarly activities, and networking.
The Gallery event was one of our favorites. Several of our members had the opportunity to attend virtually and in person. Those who attended in person received the traditional welcome bag when they picked up their registration packet. The Chapter Board looks forward to creating and giving our members the annual welcome "goodie" bag.
Great Lakes Chapter Annual Conference Welcome Goodie Bag!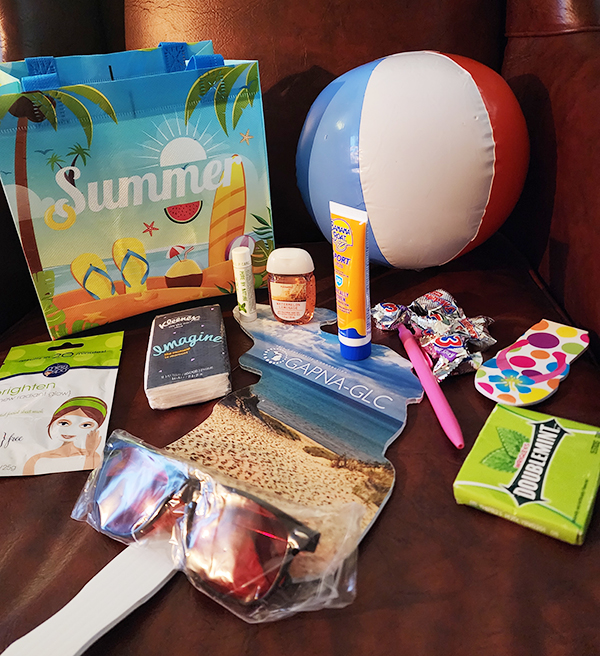 During the conference, we learned Cindy Gerstenlauer, Chair of the Historical Committee, won the newly created Innovative Award. Congratulations to Cindy, the Historical Committee, and our other colleagues who won an award for their scholarly activity.
In September, the Great Lakes Chapter (GLC) hosted our quarterly meeting sponsored by Corcept Therapeutics at Ruth's Chris Steak House. Robin Anderson, NP, presented "Hypercortisolism: Hiding in Plain Sight."
The GLC Conference Planning Committee is busy with the finishing touches for the 15th Annual Gerontological Conference on November 11th and 12th. Friday evening is reserved for our members-only event. Our members are treated to an industry-sponsored dinner and educational topic at the historical Dearborn Inn in Dearborn, Michigan.
The members also receive a gift of gratitude for supporting GLC endeavors in addition to a continuing education session. This year the topic is "Understanding End-of-Life Care" by GLC Treasurer Dr. Jason Baker, DNP, AGACNP-BC, CCRN, RN. On Saturday, several speakers from our chapter will be present: Dr. Donna Hamill, DNP, NP-C, BC-Adm, Maria Puscas, ANP, PMHNP, Holly Favero, MSN, CNN, ACNP-BC, Dr. Helen Burns, DNP, ANP-BC, AGN-BC, AOCNP, past GLC and National President Dr. Michelle Moccia, DNP, ANP-BC, GS-C, and past GLC and National President Dr. Deborah Dunn, EdD, MSN, GNP-BC, ACNS-BC, GS-C.
On October 29th, members participated in the Walk to End Alzheimer's at the Detroit Zoo. Our chapter members contributed donations for a winter gift bag, including socks, gloves, tissues, lip balm, and a grocery gift card. These will be donated for distribution by the Area Agency on Aging.
Upcoming activities will include a membership drive with a members-only social event, support and informative credentialing session for graduating NP students, and presentations to area universities about the GAPNA organization.
Maria I. Contreras, NP, AGACNP
micontreras13@hotmail.com